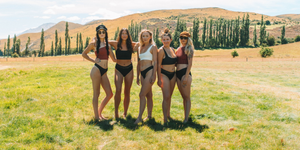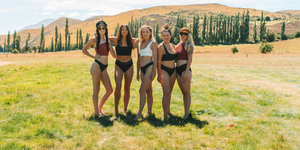 Collapsible content
First Time Using Period Underwear?

1. We recommend you try them on a lighter day of your period or when you are at home. This is your 'experiment' day when you can learn how your briefs work for you.

2. Remember Period Underwear hold different capacities. We recommend trying a pair with a backup or two, just in case. Only you know your flow!

3. If you want to change them less often, then wear use them with a menstrual cup or tampon.

4. Now that you're confident, you can wear your briefs anywhere you like...just not in water!
How does period underwear work?

Our briefs feature a super comfy inbuilt pad with four layers of protection.
How do I choose the right sized period underwear.
Does my period underwear contain dodgy chemicals?

Love Luna and ModiBodi period underwear are safe to wear and contain no chemical nasties.
How much flow does period underwear hold?

All brands of period underwear absorb differently.

If you have a light to regular flow then any of our Love Luna Period Underwear would be perfect to get started with. 

With a heavy, gushy flow you might want to try using a menstrual cup or tampon in conjunction with period underwear to help you feel really safe! Or, just go with a heavy flow brand like Modibodi!

Most period underwear needs to be changed like a pad every 4-8 hours.
How long does Love Luna period underwear last for?

If you follow all care instructions, during and after you use them, they will last around 9-12 months. Some last a lot longer if they are hand-washed or machine washed in a delicates bag. 

Just remember, rinse after use, and wash in cold water only and line dry.  Avoid bleaches, fabric softener and the dryer.
How many pairs of period underwear do I need for each cycle?

This really depends on you and your flow.  If you use them exclusively, we would suggest 7-10 pairs of period underwear per cycle. If you use them in conjunction with a menstrual cup or tampons (as back-up), you might need around 3-5 pairs.      
Can I use period underwear on their own?

Hell Yes!! We know a lot of our customers are loyal Love Luna users and don't use a cup at the same time. If you have a heavy flow, check out the heavy flow styles.
Can I swim in my Luna's?

You can now! Swim specific Love Luna period underwear is available. You can also swim in any menstrual cup. Find these here.
How do I clean my period underwear?

Rinse in a cold water bucket if you can, otherwise just pop them in a cold water wash cycle then dry them!